RETRO CUP › Results › Training Day
Training Day 1 Day 2 Day 3 Day 4 Day 5 Day 6 Day 7 Overall Results
Final Results
| | | | | | | | | | | |
| --- | --- | --- | --- | --- | --- | --- | --- | --- | --- | --- |
| # | | PILOT | CN | RN | PLANE | DISTANCE | TIME | SPEED | PEN | POINTS |
| 1 | | Helmut Kuenne | F9 | D-2318 | ASW19 | 239.71 km | 02:10:51 | 109.9 km/h | 0 | 1000 |
| 2 | | Rui Rodrigues | R1 | CS-PRB | ASW19 | 239.71 km | 02:15:38 | 106 km/h | 1 | 972 |
| 3 | | alf alf | XX1 | OK-ALF | ASW19 | 239.7 km | 02:16:29 | 105.4 km/h | 3 | 965 |
| 4 | | Soenke Neumann | SN | D-0815 | ASW19 | 239.71 km | 02:16:41 | 105.2 km/h | 2 | 965 |
| 5 | | Aleksey Chernov | AV7 | AIRMAN | ASW19 | 239.71 km | 02:26:48 | 98 km/h | 1 | 915 |
| 6 | | Miroslav Ladnak | MIL | OM-ORLE | JantarStd3 | 239.71 km | 02:31:53 | 94.7 km/h | 0 | 893 |
| 7 | | Oldrich Slavicek | O8 | OK-OLDS | JantarStd3 | 239.71 km | 02:35:08 | 92.7 km/h | 0 | 880 |
| 8 | | Daniel Ryba | DR | OK-8702 | JantarStd3 | 239.71 km | 02:37:46 | 91.2 km/h | 2 | 867 |
| 9 | | Daniel Krizanec | DK9 | 9A-KRIZ | JantarStd3 | 239.71 km | 02:41:49 | 88.9 km/h | 0 | 853 |
| 10 | | Henryk Piekos | HPO | SP-3468 | JantarStd3 | 239.71 km | 03:04:19 | 78 km/h | 0 | 777 |
| 11 | | Jaro Pincek | H7 | PINDAS | ASW19 | 212.9 km | | | 0 | 660 |
| 12 | | Rudolf Kalousek | R1K | OK-7777 | ASW19 | 174.19 km | | | 0 | 540 |
| 13 | | Josef Spirik | S50 | SPIRA | ASW19 | 92.77 km | | | 0 | 288 |
| 14 | | Antonin Fischer | AFI | OK-1103 | JantarStd3 | 66.36 km | | | 0 | 206 |
| 15 | | Sergio Chausov | SVC | UR-BEAR | JantarStd3 | 61.63 km | | | 0 | 191 |
| 16 | | Kresimir Hrastovec | KH | 9A-007 | JantarStd3 | 57.4 km | | | 0 | 178 |
| 17 | | Dr Diman | DRD | DRDIMAN | ASW19 | 41.9 km | | | 4 | 126 |
| 18 | | Alexander Novikov | AVN | UA-AVN | JantarStd3 | 38.49 km | | | 0 | 119 |
| 19 | | Zoran okara | ZO | 9A-FFF | JantarStd3 | 35.4 km | | | 0 | 110 |
| 20 | | Piotr Raczynski | PIT | SP-2901 | JantarStd3 | 27.9 km | | | 0 | 87 |
| 21 | | Stefan Fasan | PU | OE-5349 | ASW19 | 17.9 km | | | 0 | 56 |
| 22 | | Anton Lovi | AL9 | OE-2133 | JantarStd3 | 16.07 km | | | 0 | 50 |
| 23 | | Erik Praznovsky | EP | OM-1974 | JantarStd3 | 177 km | | | 15 | 0 |
| 24 | | Lubos Faitz | LFM | OK-4812 | ASW19 | 120.18 km | | | 1 | 0 |
| 25 | | jiri holub | JHO | OK-4408 | ASW19 | 92.4 km | | | 0 | 0 |
| 26 | | Jiri Adam | ADX | OK-0024 | JantarStd3 | 25.9 km | | | 0 | 0 |

Download IGC files (all pilots in one ZIP file) | Detailed results (mCR, mIAS, Detour%...)
Briefing › Training Day › 08.02.2014 › 20:00 CET › Saturday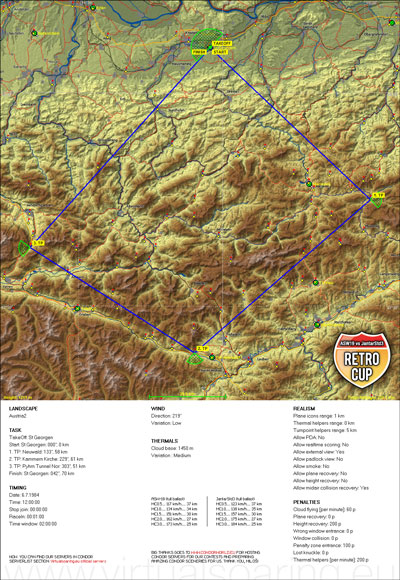 Server:Retro Cup
Password:
Date:08.02.2014
Time:20:00 CET (19:00 UTC)
Join time:30 min.
---
Landscape:Austria 2.0
Plane class:ASW19/JantarStd3 only!
Task type:Racing Task
Race-in time:1 min.
Time window:120 min.
Start time:12:00:00
Condor date:06.07.1984
Start altitude:max. 5000 m QNH
---
TakeOff:St. Georgen
Start:St. Georgen
1. TP:Neuwald
2. TP:Kammern Kirche
3. TP:Pyhrn Tunnel Nor
Finish:St. Georgen
Distance:240 km
---

Cloudflying not allowed! Circeling in the direction of climb is determined by the first glider in thermal. If you have doubts about the circeling direction, ask in the chat. Please fly safe, good luck to all pilots.
---

Download Flightplan (FPL file)
---
comments powered by

Disqus